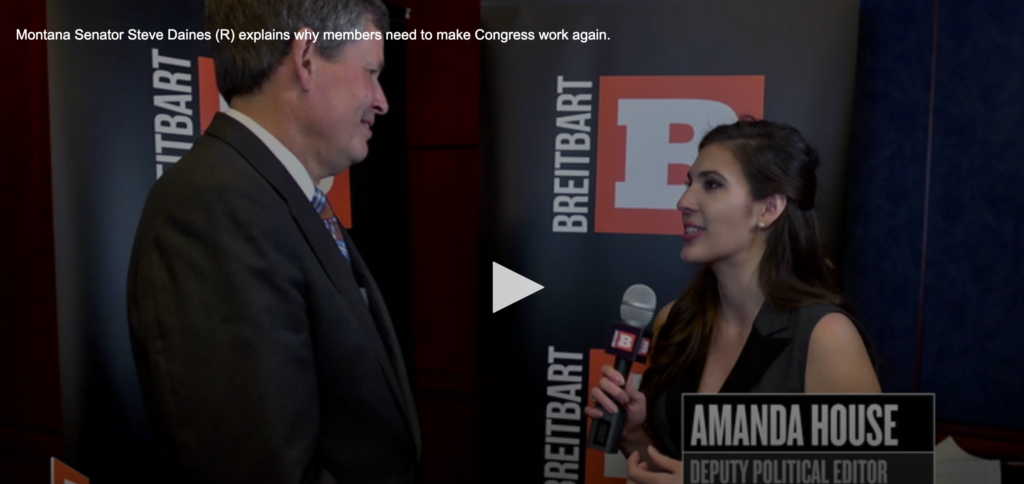 Sen. Steve Daines (R-MT) gave an exclusive interview to Breitbart News Deputy Political Editor Amanda House Tuesday on Capitol Hill, discussing the successful push to get Senate Majority Leader Mitch McConnell to cancel the Senate's August recess to continue to pursue the Republican legislative agenda and confirm President Donald Trump's nominees.
"I spent 28 years in the private sector before coming to Congress. I've never heard of such a thing as taking a month off in the summertime, an August recess," Daines, who served as a senior executive both with consumer goods giant Proter & Gamble and Montana tech success story RightNow Technologies, told House. "If you're gonna drain the swamp, you've gotta keep the pumps running in August. Let's stay here, do the work of the people."
Daines made an analogy to his wife's experience as a first grade teacher. "If the kids aren't behaving well, you cancel recess. Arguably, the Senate's not behaving. We've got a backlog of 260 nominations for President Trump we've got to get completed," he said.